Shopping Cart
Your Cart is Empty
Thank you for your business!
You should be receiving an order confirmation from Paypal shortly.
Exit Shopping Cart
Total Land Area:240 km2 of land situated in 2.2 million km2 of ocean
Number of Islands: 15
Capital: Avarua
Main Island: Rarotonga
Population: 19,000
Languages: Cook Islands Maori, English
Currency: New Zealand Dollar
Head of State: Queen Elizabeth II
Head of Government: Prime Minister Dr Robert Woonton

The Cook Islands group is a self-governing state in free association with New Zealand. Its mix of Polynesian tradition and western infrastructure make the Cook islands one of the most popular tourist destinations in the Pacific.
A net of 15 islands in the heart of the South Pacific, the Cook Islands spread over an area the size of India with a population of 13,200. These unique and friendly Polynesians have their own language and government and enjoy a vigorous and diverse culture with significant differences between each of the 15 main islands.
Due to the isolation and the dispersal of the islands, the lack of agricultural land and a declining population, the Cook Islands are still largely financially dependent on New Zealand for economic survival.
Tourism is the largest contributor to the economy, however the government hopes to further develop the marine resources in the issuing of fishing licences to foreign vessels; black pearl farming; and - in the more distant future - the exploitation of deep sea mineral deposits.
The first European to come across the archipelago was the Spaniard Alvaro de Mendana in 1596, but it is the arrival of the Reverend John Williams, from the London Missionary Society, in 1821, that has had the deepest influence on Cook Islands society. The Polynesians seem to have embraced, without too much resistance, the teachings of the London missionaries and today 70% of the local population still belong to the Cook Islands' Christian Church.
NATIONAL ANTHEM
God of truth
You are the ruler of our country
Please listen to our voices
Protect and guide us and give us Your crown of truth
So we can be successful
And so that love and peace will rule forever
Over our beloved country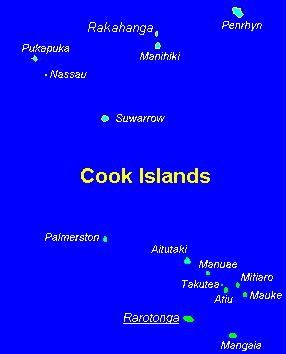 /